We know you have a choice when looking for an Investment Advisor in Niagara who can help guide your financial planning decisions – and we hope you'll consider our team at our iA Private Wealth office in Thorold.
Our team's professional standards and knowledge set the standard in our industry.
Practice standards provide the foundation in designing each client's personal plan, which is monitored, updated and reported during regularly scheduled periodic reviews. Plus, the professional depth provided by our team of CERTIFIED FINANCIAL PLANNER® professionals and supporting staff results in a simple four-step collaborative process.
We consider professional accreditation mandatory for working with clients.
At our office, professional accreditation is mandatory for all of our Investment Advisors. We want you to be comfortable knowing that our market intelligence and information is current and relevant. We believe our advisors will be able to serve you better.
Our team includes CERTIFIED FINANCIAL PLANNER® professionals – so your team does too!
The CERTIFIED FINANCIAL PLANNER® designation is recognized across Canada and throughout the world as the standard for education, examination, ethics and experience. Trust is at the heart of the financial planning relationship and you need to be able to trust in your financial planner's competence and integrity.
We have the experience and stability you can expect and trust.
As one of Niagara's oldest and largest professional financial planning practices, we are proud of the experience, stability and continuity we bring to customers. There is a comfort that comes from the knowledge that your advising team will be with you today and for years to come.
Four Step Financial Planning Process
Step 1
Tell Us Your Story
Give us a call and tell us how we can help by telling us your story and how you came to be where you are today. It's important for us to know you so we can offer the best option.
Step 2
The Initial Discussion
Together, we'll go over the details of your financial objectives, life goals and related concerns. We'll develop a financial plan and investment solution that best fits.
Step 3
Sit Back
We will organize your finances, address any concerns that you may have and implement your financial plan as discussed.
Step 4
And Relax
We monitor and manage your investments and asses your progress. When we think there is something that requires attention we'll contact you. Relax knowing that we're on top of it!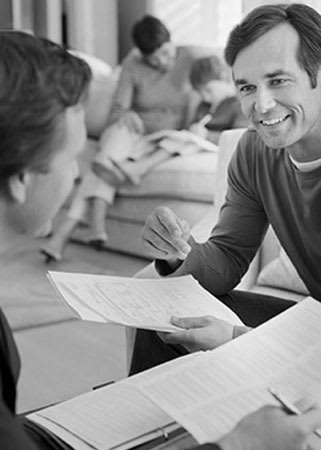 A Commitment To Exceptional Customer Service
Stop waiting for answers, start getting some.
At iA Private Wealth, we are committed to ensuring a timely response to your inquiries, regardless of other professional development commitments, vacations or any unforeseen circumstances.
We offer extended, integrated service options so you get everything you need in one office.
We know that the success of your financial planning includes avoiding both legal and tax issues. So, we make it easy for you to talk to experts in these areas, right in our office. This team of easy-to-access professionals allows us to fully integrate our wealth management program with any other professional services that may come to bear on your individual circumstances. 
Right Around the Corner - Serving Niagara
Serving the greater Niagara area since 1991, ask any one of our satisfied clients about our services.